TESTING EQUIPMENTS
QUALITY CONTROL
Our high standard quality system allows us to control and maintain strict quality requirements for all customers, especially to fulfill the commitments required by ISO 9001.
Our quality system brings confidence to our customers. We document every quality inspection record for our internal evaluation and for traceability.
We have an in-house inspection line including precision hand inspection tools, gauges, micrometers, roughness tester, height gauges, pin gauges. Automatic image measurement, Roundness and Cylindrictiy, and Contour measuring systems.
DFK is dedicated to achieving customer's most satisfaction.ISO standards make a positive difference to all of us, it's not only a quality standard for the operation, it also gives positive influences on our daily lives, and then extending to our society.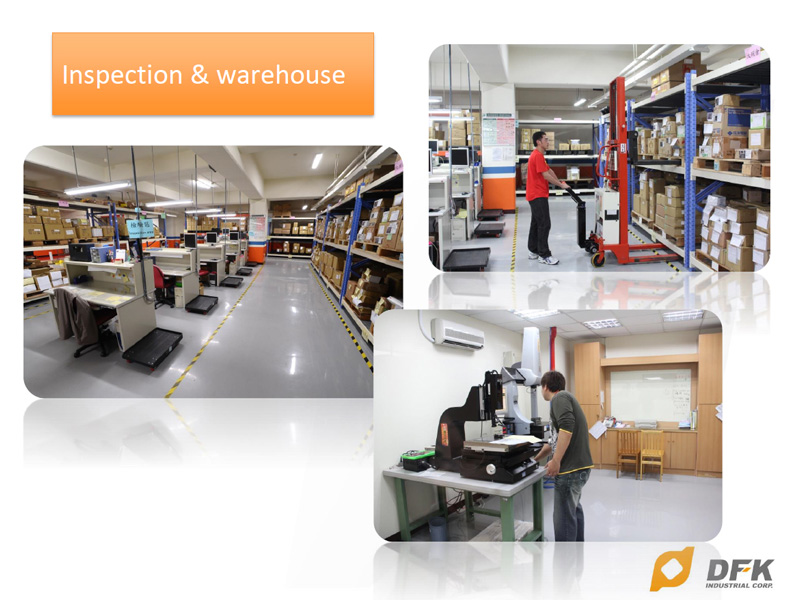 INSPECTION & WAREHOUSE
QUALITY ASSURANCE
DFK is dedicated to achieving customer satisfaction.
ISO standards make a positive difference, not just to engineers and manufacturers for whom they solve basic problems in production and distribution, but to society as a whole.
ROHS & REACH COMMITED(The Restriction of Hazardous Substances)
DFK is committed to fully compliance to the RoHS Directive 2002/95/EC which regulates 6 hazardous materials used in electrical and electronic equipment.